Gone are the days when giant, oversized cooking spaces were considered trendy. Don't get us wrong, there's nothing wrong with having a large kitchen, as it comes with a comfy batch of advantages. But large kitchens were the in thing in the 1990s. 
Since then, time and trend have moved us forward. And like any professional Kitchen Planner or Interior Designer/Decorator will tell you, what was "in" a few years ago is not necessarily "hot" right now. The thing with modern-day designs is that there has been a significant shift towards functionality, with spaces and structures becoming more user-friendly. And these days, small kitchens have proven to be just as practical and stylish as their bigger counterparts – that is, if you adhere to a few simple rules in terms of practicality and visual aesthetic, of course. 
For those who aren't convinced that having a small kitchen definitely has its benefits, keep the following in mind:
• Small kitchens enjoy a more efficient work triangle, as the key work stations and appliances are situated closer to each other;
• The overall building costs are much less because there are smaller quantities needed;
• DIY construction / decorating work is more practical, as fewer building materials and accessories are required;
• High-end finishes are more affordable as you don't need to purchase that much;
• With a small kitchen, your living space (i.e. living room, dining room) is maximised as less legroom is dedicated to your cooking space. 
So, with a newfound respect for tinier kitchens, let's take a look at 10 examples that know how to put the style back into small!
1. Don't you love how that dining table instantly becomes a kitchen island once the chairs are removed?
And see how the white cabinetry simply melts into the similarly light-coloured walls of the kitchen.
2. Even a small kitchen can still flaunt a graceful look, especially with cabinets and counters clad in deluxe materials (marble, anyone?)
3. Don't let your small U-shaped kitchen make you feel trapped.

Modern Kitchen with multiple storage capacity
HomeLane.com
Lighten the look with soft neutrals, as well as a commitment to decent lighting.
4. A window in the right place (and with the right view) can make any small kitchen seem heaps bigger and better.
5. Don't be scared to experiment with funky colours in your small kitchen.
Just be sure to balance them out with softer neutrals, otherwise your whole cooking zone will be swallowed up (visually speaking).
6. Never discount the style power of walls.
Wallpaper; fresh paint; wall art; backsplashes… there are so many ways to breathe some fresh style into a small kitchen's wall surfaces!
7. Remember that open shelving / cabinetry can help with some breathing room for your small kitchen.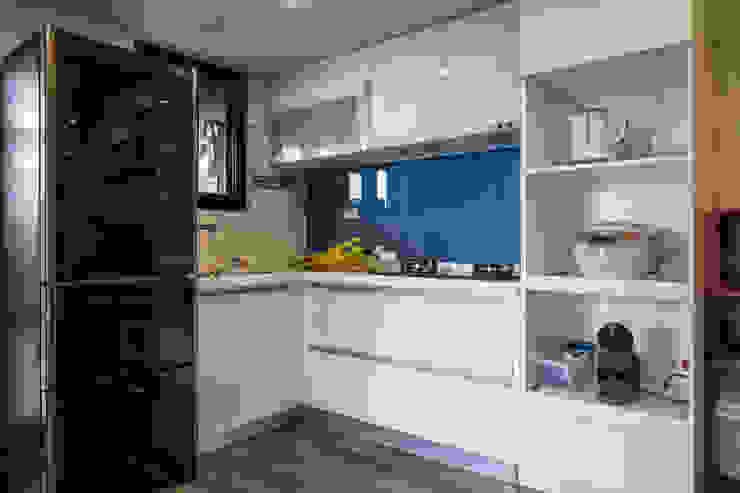 自我的個性表答不受約束的心靈-公園1號
富亞室內裝修設計工程有限公司
But just ensure you're not displaying clutter!
8. Since the botanical look is so hot right now, we had to include this small kitchen with its fresh-as-an-island vibe.
9. Bonus points of you can have glass doors leading out of your small kitchen onto a patio or garden!
10. Creative lighting fixtures!
That's right—draw the eyes upwards to have people admire your lights / cabinets / ceiling. That way, they'll completely overlook the limited legroom.
Since we're making small stylish, you might find these 10 amazing colours for a small room's walls quite inspiring.