Our title might say 'back' yard, but don't think that these tips we are about to share with you can't be used in the front yard too – or the side yard, or the balcony of a 12th storey apartment, or anywhere else that's a small outdoor space that is in need of a stunning touch or two! Because we know how frustrating it is to see a little garden, patio, terrace or courtyard that deserves a little TLC.
So, with style and functionality in mind (and also because it's summer and we're going to be spending lots of time outdoors), let take it away!
1. Exterior lighting is not only for safety reasons. How elegant does this covered deck become at night?
2. Got the time (and budget)? Ever thought of treating that little patio to a new pebble-clad floor?
3. Why not treat yourself to a seating spot in your cosy little courtyard and enjoy fresh air to your heart's content?
4. You don't need an abundance of plants and flowers to enjoy a beautiful garden – pebbles and rocks work just as well.
5. On the other hand, a few potted plants (in stunning potters) never hurt anyone.
6. A splash of paint, anyone? Who says a wooden deck has to be brown?
7. See how some fabulous fabrics can style up a seating space? Those scatter cushions and upholstered benches look so inviting!
8. Colour in a neutral palette with some vivid hues, like these shocking-pink potters.
9. Dare to be creative and bold with your outdoor space – who knew framed mirrors on shrubs could look so… otherworldly?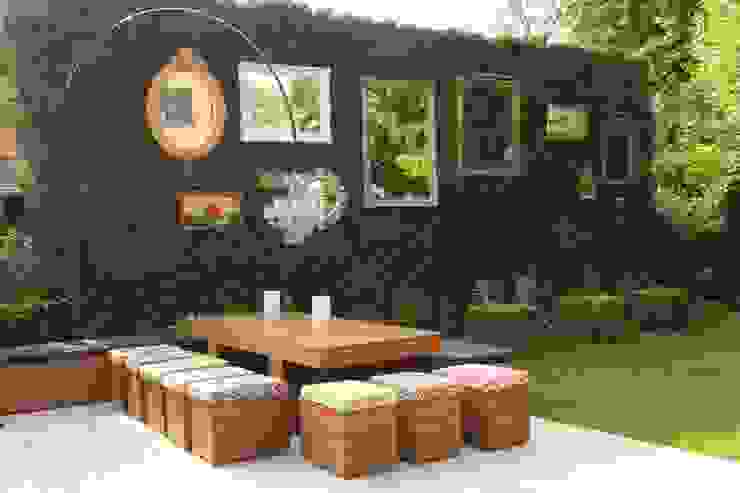 The Gallery Garden
Cool Gardens Landscaping
You might be doing it wrong… see these 10 great ideas to make gardening easier.