When it comes to securing your beautiful family home, you really need to be on top of fencing and gates that will look great with your facade, keep unwanted guests at bay and look great from the street. This might sound like a pretty tall order, but we've found a host of truly gorgeous options that we know even your architect will agree are perfect for showcasing and simultaneously securing the beautiful property that they've designed for you. Come with us now, as we show you them!
1. We applaud the bravery to embrace vivid colour here! What a way to really create a stunning visual, from the street!
2. The perfect mix of smooth white render, frosted glass fencing and secure gates has made this gorgeous contemporary home a real fortress!
3. Understated and elegant, the solid white walls, interspersed with delicate black iron railings here, look so classic and stoic!
4. Is this a simple design? Yes, but it has serious style as well! It even allows just enough light through, to keep the courtyard beautifully ambient.
5. Bright blue walls have given this home the ultimate in modern facelifts and with an intercom system in place to open the gate, it's so secure as well.
6. Does anything look as dramatic, daring and formidable as monochrome fencing and gates? We don't think so, especially now that we've seen this home!
7. The way that negative space has been used throughout this facade is genuinely inspired and has created a level of cohesion and security that is admirable.
8. How about a little industrial inspiration now, with some heavy-duty metal gates? We love the sturdiness and business-like appearance!
9. The combination of monolithic shapes and organic large stones here is dynamic, to say the least, but more than that; what a deterrent to uninvited visitors!
10. Choosing sombre grey security gates and doors has made this home look wonderfully serious and understated. There's just something about grey that looks so stoic!
11. It might be easy to see through, but make no mistake; this gate would keep you out! What a great touch it is to be able to see the gorgeous house through the security fence though!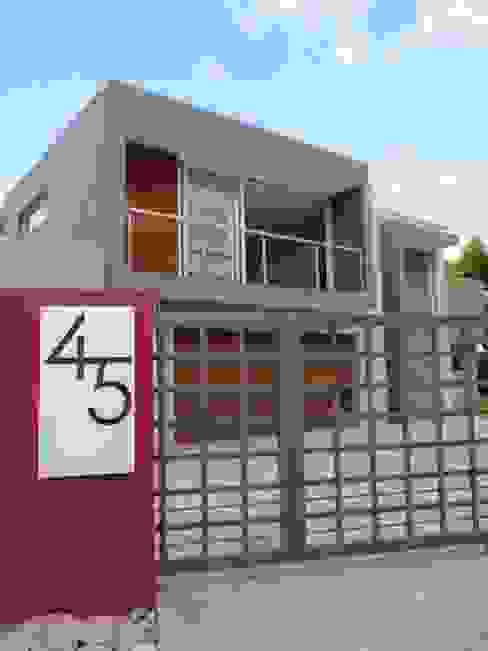 House Basson
Orton Architects
For more fencing inspiration, take a look at this Ideabook: Awesome fencing ideas for South African gardens.