Om saam met vriende en/of familie iets op die kole te gooi en die vars lug en warm weer te geniet is definitief menigte Suid-Afrikaners se gunsteling manier om 'n naweek te spandeer. En aangesien voorgenoemde warm weer net om die draai is, word daar klaar weer gedink aan geleenthede om die braaier af te stof.
Maar voor jy jou volgende spyskaart vir daardie agtererf of –tuin kuier beplan, wat van bietjie inspirasie vir jou braai area? Hierdie 10 ontwerpe kan jou dalk net oorreed om jou erf of tuin te omskep in die perfekte braaiplekkie.
1. Ons is seker daar's 'n heerlike swembad net 'n paar meter van hierdie treffende onderdak braai-spasie.
2. Vergeet van rustieke styl – jou braai area kan net so elegant en klassiek lyk as wat jy dit wil hê.
3. Hoe uniek is hierdie skanskorf ontwerp nie – 'n braaier en kaggel in een!
4. Wie't gesê jy kort baie spasie om 'n ordentlike braai-plekkie te geniet?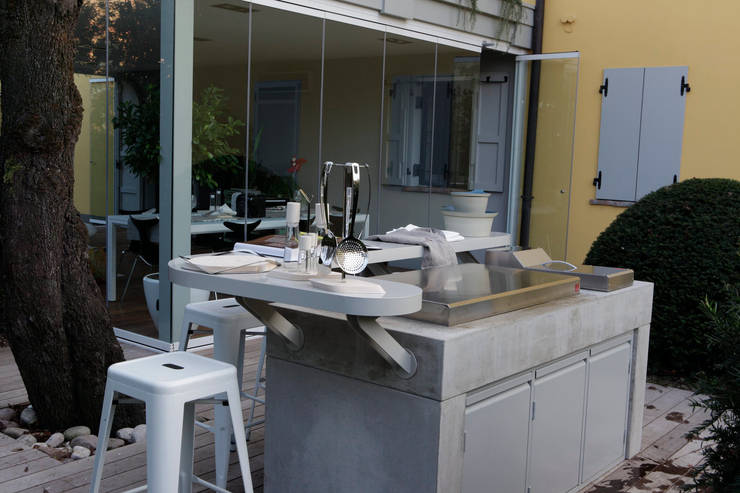 Barbecue in ogni stagione
Odue Modena - Concept Store
5. Ons is absoluut mal oor hierdie Mediterreense-styl agtertuin!
6. Moenie vergeet om genoeg stoorspasie by jou braaier te voeg nie, vir al daardie speserye, borde, eetgoed ens.
7. Smaak verskil, en daarom kry enige braai-plekkie met 'n pizza oond ons stem!
8. 'n Binnebraai in jou kombuis? Perfek vir wanneer die weer jou kuierplanne wil belemmer.
9. En gepraat van onderdak, hoe stylvol is hierdie kuier/braai area nie met sy baksteenmuur en pragtige bar nie?
10. Hierdie ontwerp bied ook sommer 'n netjiese eetplekkie en pragtige uitsig oor die tuin.