Lus om jou huis 'n meer moderne styl te gee? Begin by die begin: die ingang. Dis mos die heel eerste plek wat gaste gaan sien en dis ook makliker as om, byvoorbeeld, die badkamer of kombuis oor te doen. Plus, met jou ingang wat met 'n lekker moderne styl spog kan dit jou ook inspirasie en idees vir die res van jou huis gee.
Hierso is 10 idees wat jou kan help…
1. 'n Neutrale kleurskema is belangrik, soos gryse, bruine en wit. Dit werk ook lieflik saam met die groen van plante.
3. Die manier wat jy materiale kombineer maak 'n verskil – kyk hoe modern word hierdie ingang danksy die staal en beton afwerkings.
4. 'n Bruggie ingang oor water is die toppunt van moderne style, veral as LED beligting betrokke is.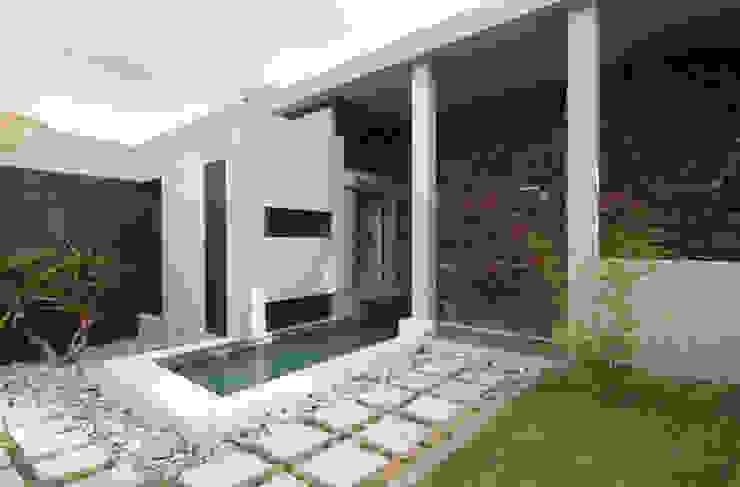 Let The Light In
Spiro Couyadis Architects
5. Moenie dink klip is net vir rustieke ontwerpe bedoel nie – die houtdeur met sy gladde afwerking maak 'n groot verskil hier.
6. Nog 'n voorbeeld van hoe steen 'n unieke moderne voorkoms kan geniet – maak net seker dit het nie 'n te-rou afwerking nie.
7. Wie't gesê 'n afdak is die enige uitweg om jou moderne voorstoep mooi beskut te maak?
8. 'n Ekstra-lang muur ontwerp wat jou voordeur aandui word ook vir menigte moderne huise gebruik.
9. Alhoewel die kleurskema neutral moet wees, kan jy nog steeds 'n treffende skakering iewers inbring, soos hierdie warm pienk bewys.