Be honest: how many times has it happened that guests visiting your home have asked to look at your garage? Maybe to glance at your choice of vehicles, sure, but definitely not to gather style tips – for those, they usually check out your interior design skills flaunted in other indoor spaces, like living rooms, kitchens and dining rooms.
But that doesn't mean that your garage should be a cold, dark and neglected space – after all, it's where you keep some of your most prized, four-wheel possessions! 
So, with that in mind, let's take a look at some garages that definitely know how to bring the style…
1. How charmingly stylish is this country garage with its timber, metal and stone design?
2. "Glitz and glamour" is how we would describe this modern beauty – and the cars are great, too!
3. This open-plan garage flaunts quite the unique look thanks to both its floor- and roof design.
4. Not a garage per se, but we still think this parking space deserves recognition for its eye-catching style!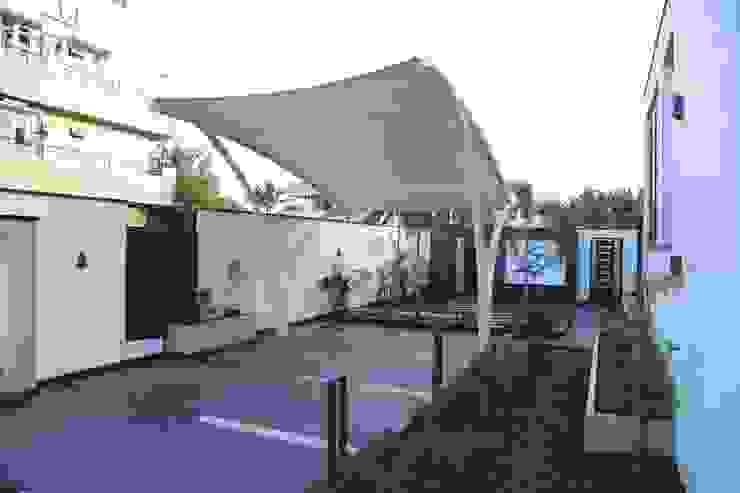 A tensile fabric car shed
Hasta architects
5. A concrete pillar, wooden trusses and curved roof shingles – this beautiful garage looks so easy to copy, doesn't it?
6. Don't you think your vehicles also deserve to enjoy a beautiful view, such as this lush garden spot?
7. The combination of modern materials and neutral hues promote this garage design from "nice" to "va-va-voom'!
9. Sleek, stylish and with a touch of futuristic vision – exactly how we like our garages!
10. We love the almost monochrome look of this fresh and open design, and the wooden finishes add so much elegance.
11. How easy would it be to recreate this timber-clad design back home? Don't forget the glittering ceiling downlighters!