Dit maak nie saak hoe groen jou vingers is of hoe gereeld daardie professionele tuindienste kom uithelp nie – ons almal wil graag 'n mooi, skoon, vars en netjiese tuin geniet. Maar natuurlik vat dit tyd.
Maar hier kom die goeie nuus: tuinmaak bied soveel opsies! Dit maak nie saak of jou erf klein of groot, modern of rustiek, 'n klipvloer het of met gras bedek is nie – elke opsie bied 'n hele paar maniere om opgetower te word. En natuurlik is daar soveel voordele om bietjie tyd buite in die son en vars lug te spandeer. 
Dus, kom ons kyk na 11 vars voorbeelde van tuine (klein en groot) wat jou ietsie kan leer…
1. Al 4 die elemente: water, vuur, grond en lug. Wat 'n unieke kombinasie!
2. 'n Klipmuur bied rou tekstuur en interessante patroon aan, wat perfek uitwerk as jou tuin rustiek is.
3. Maak nie saak hoe klein jou tuin is nie, maak seker jy voeg 'n paar plante/blomme by vir kleur en varsheid.
4. Wanneer dit by fontuine kom, is daar 'n hele wêreld vol opsies om van te kies!

Project Completed by Liquid Landscapes
Liquid Landscapes
5. As jou tuin 'n sekere tema het, is daar niks beter as 'n paar standbeelde nie.
6. Moenie van beligting vergeet nie – kyk hoe mooi helder dit die erf op, en dit skep ook 'n unieke atmosfeer.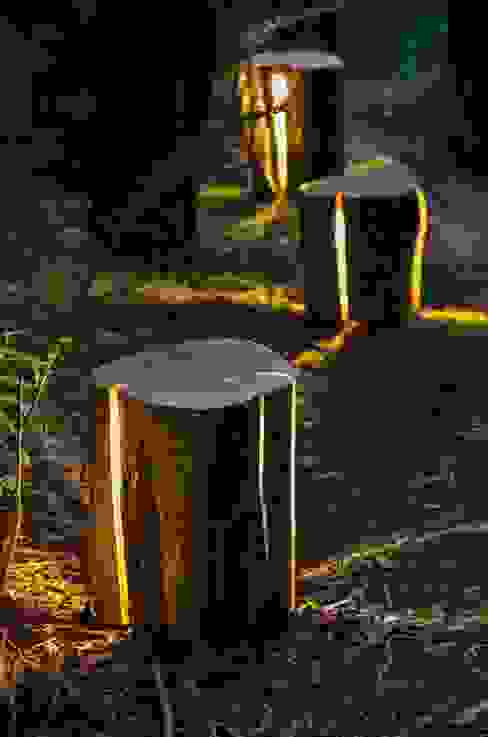 Cracked Log Lamps
Duncan Meerding
7. Selfs 'n ou stoepie kan in 'n treffende tuin omskep word danksy potplante. Jy kan selfs 'n kleurtema kies vir ekstra styl.
8. Enige tuin kan opgestyl word teen 'n skuinste. Kyk hoe oulik en prakties werk hierdie moderne kliptrappe.
9. Indien jy die spasie het, stel ons 'n unieke skepping voor, soos hierdie tuinhuisie waar mens heerlik (en stylvol) buite kan ontspan.
10. Tuinmeubels kan ook 'n groot indruk skep. Kry 'n tafel en paar stoele wat by jou tuin se styl gaan pas.
11. Geen vloerspasie nie? 'n Vertikale tuin is die antwoord om bietjie groenigheid aan jou stoep te verleen.
Moenie bekommerd wees indien jy nie baie ondervinding met tuinmaak het nie – kyk gerus na 10 top tips for beginner gardeners.