The bedroom is one of the most important rooms of the home. It's where you rest, relax, and prepare for each day in the morning. It's where you go to rejuvenate yourself, and where you turn yourself into the best version of who you want to be that day. However, design-wise, the bedroom is often overlooked.
Your bedroom should be a reflection of your values, your style, and your personality. It should inspire you in the morning, and chill you out at night. If your bedroom is falling short of those ideals, perhaps it's time for a redesign. Check out these 12 stunning designs by our fabulous interior design professionals, and recreate your boudoir today!
1. This light and airy bedroom uses shiny dark wood flooring and white walls to reflect light and bounce it around the room.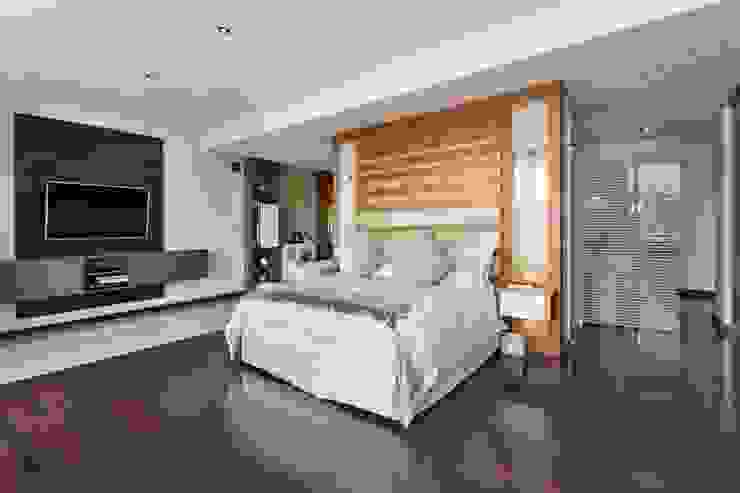 Apartment Robertson—Pembroke
Covet Design
2.How cosy! This innovative boudoir fuses the best of rustic and industrial styles together to create a warm, inviting haven of calm.
Recreate this look by stripping back the wallpaper to reveal the brickwork underneath, and install criss-crossing wooden beams on the ceiling for that rough and ready farmhouse vibe.
3. It's a room within a room! This contemporary sleeping space is sectioned off from the rest of the studio apartment, and uses a calming blue colour to send you off to sleep…
4. Drift off to sleep in this heavenly white space. The use of calming white and grey tones makes it feel like you're snoozing on a particularly soft cloud…
5. Low-slung chic is the way forward for young city dwellers. Use black and white patterns on a blank canvas to create a sharp look that reflects your cutting edge mentality.
6. Lighting is the key to creating a relaxing space for rest. Keep it dim and cosy, and use well positioned recessed lamps that can illuminate specific areas when you require extra light.
7. Who doesn't love a skylight? Brighten up your by adding a couple of extra windows to your ceiling. This allows light to enter from a different angle, making the entire room feel more fresh and vibrant.
homify hint: just don't forget the black-out blinds!
8. Work with your low ceilings by making them a feature of the bedroom! Use rugged false brick wallpaper to recreate this look, and contrast it with homely plaid textiles.
9. Minimalism reigns in this chic set up. Use strong lines, hidden wardrobes and contemporary lighting to create a similar vibe in your own bedroom.
If you want to go the whole hog and recreate this room to a T, you're going to have to commit and build a sunken bed in the floor! This might sound crazy, but this hidden trapdoor bed is super comfy and saves a lot of space in this small home.
10. Inject a bit of Eastern flair into your room by drawing on contemporary Japanese design ideas. This modern take on the four poster bed is both innovative and comfortable!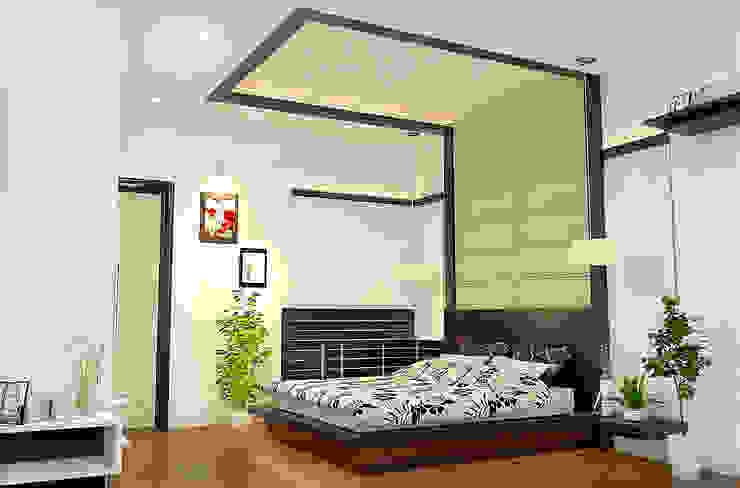 Bedroom Design
BN Architects
11. If all of this modernism is driving you crazy, go for a classic design instead. You can't go wrong with chintzy wallpaper, blue stripes and Shaker style furniture…
… just don't let the patterns get out of control, and stick to a cohesive colour palette!
12. Create a neutral paradise by using wood and white in a medium-sized space. This basic four poster bed is luxurious yet low key, and the recessed lighting ensures that the mood is right EVERY time.
Sleep tight…
If you liked this article, check out: 8 beautiful headboards for your bedroom.