When it comes to designing the exterior space of a front entrance, there is definitely a world of choices: lights, patterns, materials, textures, plants, etc. Of course which elements you choose to combine will depend on the style of your home, but factor in personal taste and preference, and there is no reason why two houses should ever have the same front entrances.
To inspire some unique creativity in you, we have gathered 13 of our favourite front entryways here on homify, each one with a unique approach to steps, gardens, lighting and other elements.
Scroll ahead and decide which ones would look perfect at your house!
1. A wooden bridge over a bubbling body of water? Now that's how you make a grand entrance!
2. Two concrete steps are nothing new, yet the way in which they combine with the stone walls and brightly coloured door makes this entrance one of our favourites.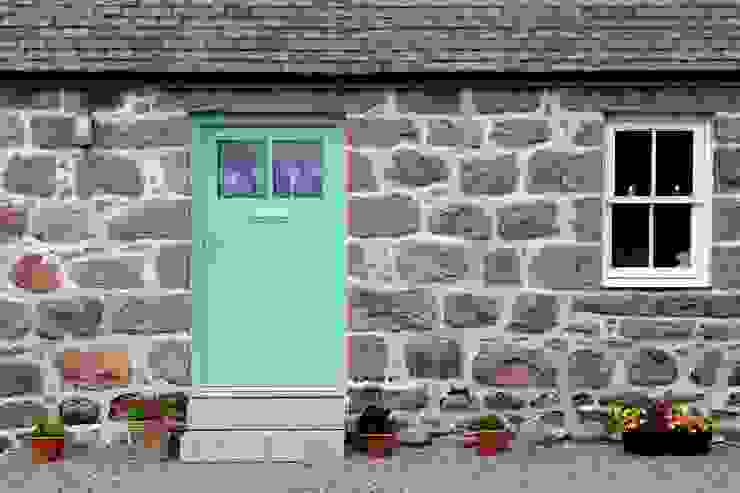 Old School House, Glen Dye, Banchory, Aberdeenshire
Roundhouse Architecture Ltd
3. Stone steps (and landings) make for an elegant journey to this front door – and don't overlook the unique wooden touches.
4. On a sloping landscape, your best bet to the front door is a long staircase – better add some rocks and garden touches to make it a scenic route, then.
5. Three long stone slabs ensure a more level ascend to this front entrance, decked out in so much modern style.
6. Stairs can be used to accentuate an entry, as this example shows us clearly where the front door is.
Allow our extensive list of professionals (including interior designers, architects, gardeners, lighting experts, etc.) to help you conjure up the house of your dreams.
7. This ultra chic house flaunts a very futuristic… everything! Perfect for when you want your front entrance to be the shiny gem of the neighbourhood.
8. Although we love the steps and garden areas, it is the illumination of the outside lights that completely dazzle us with this front entrance.
9. This example shows us how simple concrete can conjure up a most contemporary front entrance.
10. Stone isn't your only option – look how trusty timber makes up a delightful front porch for this rustic house.
11. This modern house presents two ways to get to the front door (which is located on the left side of the house): steps and a pebble garden.
12. These steps are anything but discreet, for no plants, railings or lights interrupt its linear design which leads us up and up and up…
13. Now this is a truly unique design where the front entrance is at the top of this house-on-a-slope. Simply astonishing!