The entrance of a house is incredibly important! By renewing this part of the home, you can transform the entire look and feel. 
A good entrance invites and welcomes guests into your home, setting the tone for what your living room, kitchen and dining room look like as well as what the style and tastes of your home are. An entrance sets the tone for your unique style as well as the personality of your home.
There are so many modern and chic ways that you can improve your entrance, including protruding walls, pergolas, plants, wall coverings, different colours, mirrors or even water features.
To give you some inspiration and some impressive ideas, we at homify have put together 15 photographs from top professionals from around the world. You'll want to start redesigning your entrance immediately!
1. A dark stone slab perimetre wall with a horizontal and minimalist grid
3. Use a tiled path and a garden to create a beautiful terrain
5. A wooden door with stone walls can be creative and artistic with the right design
6. A linear cement pathway leading to a wooden front door combines raw materials, making for a warm and inviting entrance
7. A narrow staircase surrounded by greenery is particularly attractive while the lights illuminate the detail
8. The vertical staircase leads up to a savvy wooden door while the palms are the cherry on top of the design
9. A small facade of wood, glass and stone is made better with a beautiful artificial pond
10. Perfect harmony is created between the wood of the door and the green vertical garden
11. This is a dramatic design thanks to the staggered stone and different tones
12. A minimalist design of linear stone is enhanced by touches of greenery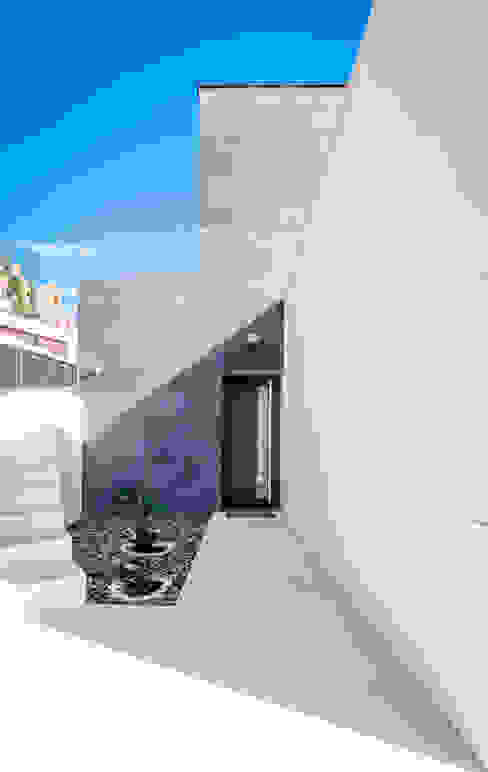 Entry door
08023 Architects
13. The sculptures next to the staircase change the look and feel of this entrance
14. A concrete wall with shelves is ideal for creating a simple vertical garden
15. A discreet path of wood and brick is accompanied by bamboo shoots and cactus plants—very striking